Memorable Houston
Meeting Rooms
First Floor
Hotel Capacity Chart
Meeting Rooms
Dimensions
Area
Max Ceiling
Height
Theater
Classroom
Banquet
Conference
U-shape
Hollow
Square
Reception
Ambassador
16x35x10
494
10
70
20
40
24
20
23
35
Diplomat Boardroom
22x13x10
272
10
-
-
-
12
-
-
-
Executive
22x21x10
391
10
35
15
30
20
15
20
25
Social Distancing Capacity Chart
Meeting Rooms
Dimensions
Area
Max Ceiling
Height
Theater
Classroom
Banquet
Conference
U-shape
Hollow
Square
Reception
Ambassador
16x35x10
494
10
20
7
13
8
7
8
35
Diplomat Boardroom
22x13x10
272
10
-
-
-
4
-
-
-
Executive
22x21x10
391
10
12
5
10
7
5
7
25
Second Floor
Hotel Capacity Chart
| | | | | | | | | | | |
| --- | --- | --- | --- | --- | --- | --- | --- | --- | --- | --- |
| Meeting Rooms | Dimensions | Area | Max ceiling height | Theatre | Classroom | Banquet | Conference | U shape | Hollow square | Reception |
| Bayou Ballroom | 34x54x12 | 1920 | 11.5 | 200 | 95 | 130 | 60 | 55 | 60 | 180 |
| Bayou A | 33x17x12 | 556 | 11.5 | 60 | 30 | 40 | 25 | 20 | 25 | 60 |
| Bayou A & B | 34x44x12 | 1404 | 11.5 | 140 | 75 | 110 | 45 | 40 | 45 | 130 |
| Bayou B | 34x27x12 | 873 | 11.5 | 100 | 48 | 70 | 35 | 30 | 35 | 90 |
| Bayou B & C | 34x42x12 | 1373 | 11.5 | 130 | 65 | 100 | 40 | 35 | 40 | 120 |
| Bayou C | 34x15x12 | 510 | 11.5 | 50 | 30 | 30 | 25 | 20 | 23 | 40 |
| Bluebonnet Ballroom | 58x77x12 | 4324 | 12 | 550 | 300 | 350 | 100 | 80 | 100 | 500 |
| Bluebonnet A | 58x35x12 | 1983 | 12 | 200 | 120 | 200 | 55 | 50 | 55 | 200 |
| Bluebonnet B | 58x42x12 | 2363 | 12 | 300 | 160 | 225 | 60 | 55 | 60 | 250 |
| Cougar | 20x37x10 | 615 | 10 | 60 | 30 | 50 | 30 | 25 | 30 | 50 |
| Gulf Coast A | 20x24x11 | 440 | 10.8 | 40 | 20 | 30 | 20 | 15 | 20 | 35 |
| Gulf Coast B | 20x28x11 | 474 | 10.9 | 40 | 20 | 30 | 20 | 15 | 20 | 35 |
| Houston A | 17x27x11 | 424 | 11 | 50 | 20 | 30 | 20 | 15 | 20 | 40 |
| Houston B | 17x34x11 | 424 | 11 | 50 | 20 | 30 | 20 | 20 | 24 | 40 |
| Whitehall | 35x29x15 | 905 | 15 | 10 | 50 | 80 | 40 | 30 | 40 | 100 |
Social Distancing Capacity Chart
| | | | | | | | | | | |
| --- | --- | --- | --- | --- | --- | --- | --- | --- | --- | --- |
| Meeting Rooms | Dimensions | Area | Max ceiling height | Theatre | Classroom | Banquet | Conference | U shape | Hollow square | Reception |
| Bayou Ballroom | 34x54x12 | 1920 | 11.5 | 67 | 32 | 60 | 20 | 18 | 18 | 90 |
| Bayou A | 33x17x12 | 556 | 11.5 | 20 | 10 | 13 | 10 | 8 | 8 | 30 |
| Bayou A & B | 34x44x12 | 1404 | 11.5 | 47 | 25 | 37 | 15 | 13 | 13 | 65 |
| Bayou B | 34x27x12 | 873 | 11.5 | 33 | 16 | 23 | 12 | 10 | 10 | 45 |
| Bayou B & C | 34x42x12 | 1373 | 11.5 | 43 | 22 | 33 | 15 | 13 | 13 | 60 |
| Bayou C | 34x15x12 | 510 | 11.5 | 17 | 10 | 10 | 10 | 8 | 8 | 20 |
| Bluebonnet Ballroom | 58x77x12 | 4324 | 12 | 183 | 100 | 138 | 35 | 33 | 33 | 250 |
| Bluebonnet A | 58x35x12 | 1983 | 12 | 67 | 140 | 48 | 18 | 16 | 16 | 100 |
| Bluebonnet B | 58x42x12 | 2363 | 12 | 100 | 53 | 72 | 20 | 18 | 18 | 130 |
| Cougar | 20x37x10 | 615 | 10 | 20 | 10 | 18 | 10 | 10 | 10 | 25 |
| Gulf Coast A | 20x24x11 | 440 | 10.8 | 13 | 6 | 12 | 7 | 5 | 5 | 18 |
| Gulf Coast B | 20x28x11 | 474 | 10.9 | 13 | 6 | 12 | 7 | 5 | 5 | 18 |
| Houston A | 17x27x11 | 424 | 11 | 17 | 6 | 18 | 7 | 5 | 5 | 20 |
| Houston B | 17x34x11 | 424 | 11 | 17 | 6 | 18 | 9 | 7 | 7 | 20 |
| Whitehall | 35x29x15 | 905 | 15 | 33 | 12 | 30 | 12 | 10 | 10 | 50 |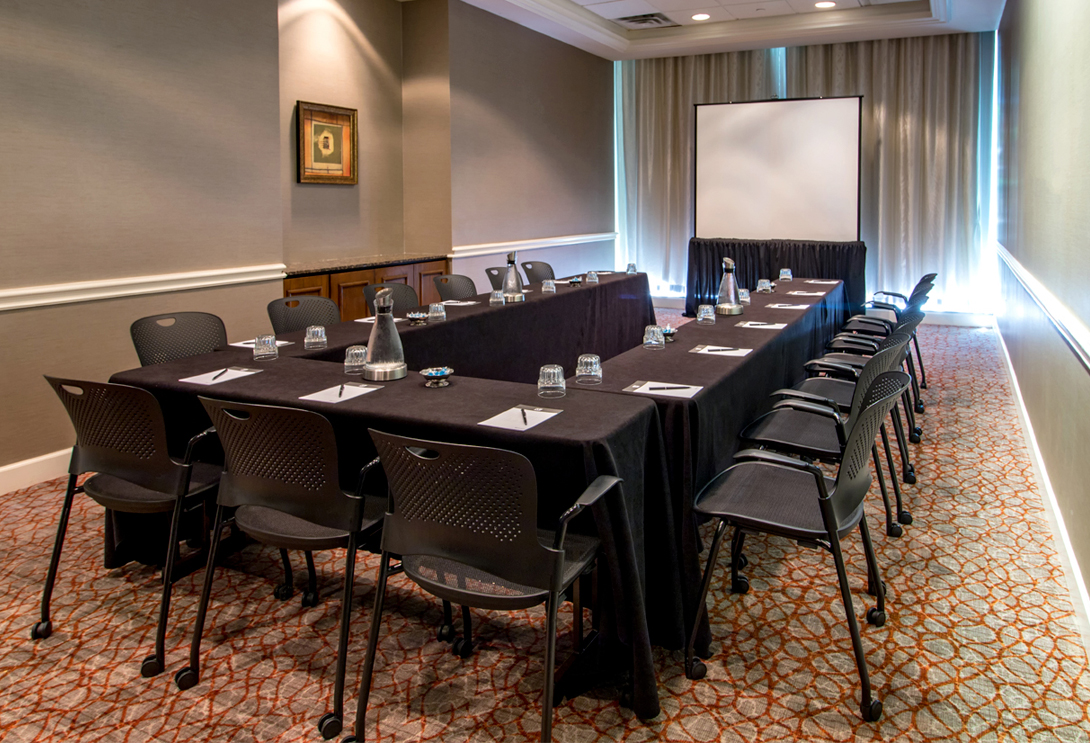 Ambassador
494 sq. ft. | Up to 70 guests
Located on the first floor, the Ambassador Room features floor-to-ceiling windows affording abundant natural light. This room can accommodate a meeting size of up to 50 guests and can easily accommodate a seated function for 40 attendees.
Diplomat
272 sq. ft. | Up to 12 guests
Accommodating up to 12 guests, our Diplomat boardroom is furnished with a mahogany conference table featuring built-in technology, executive-style leather chairs and a wall-mounted 65" inch flat screen to make sharing work a breeze.
Executive
391 sq. ft. | Up to 35 guests
Accommodating up to 35 guests, the first floor Executive Room features floor-to-ceiling windows and a perfectly square shape, affording extra space for meeting essentials.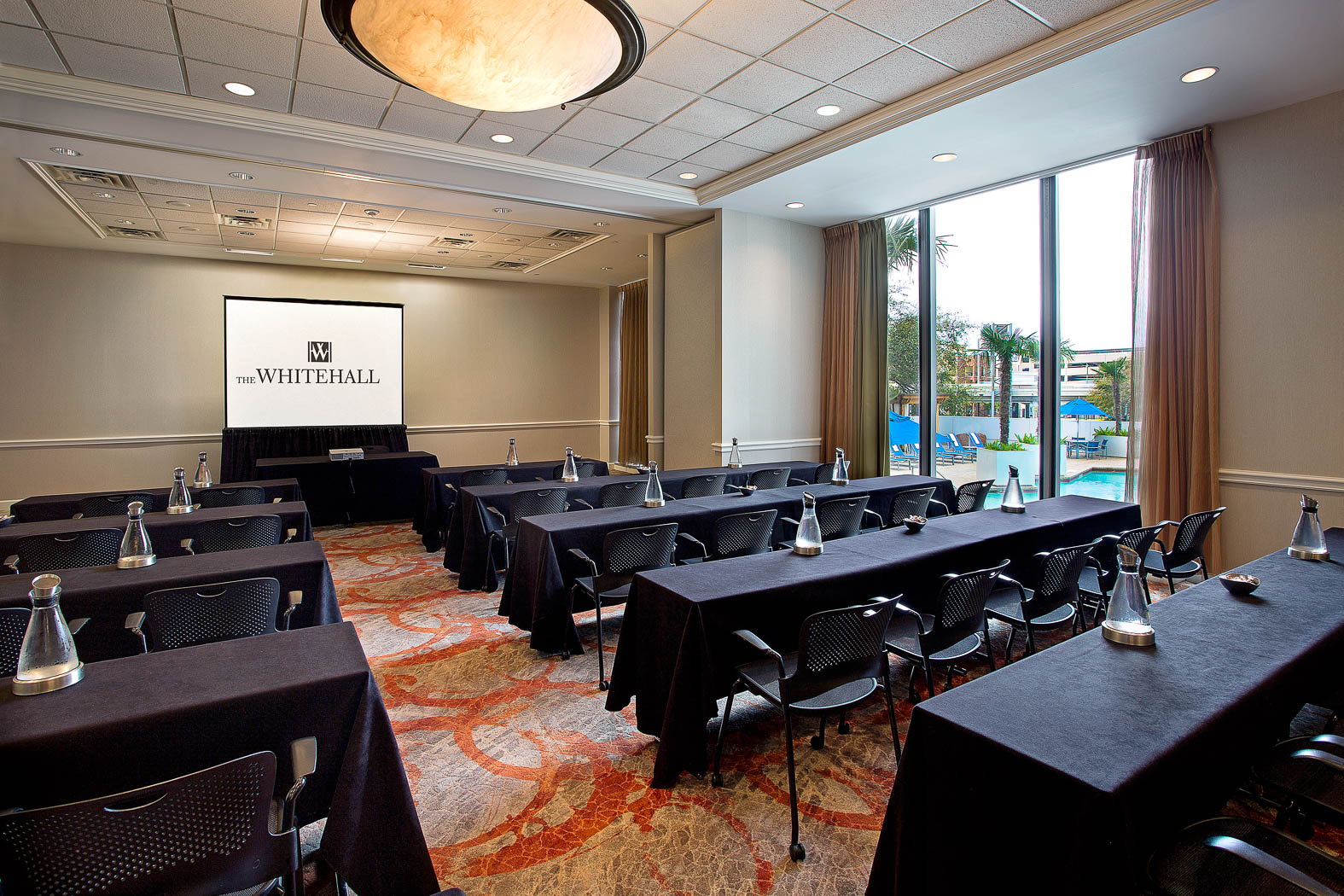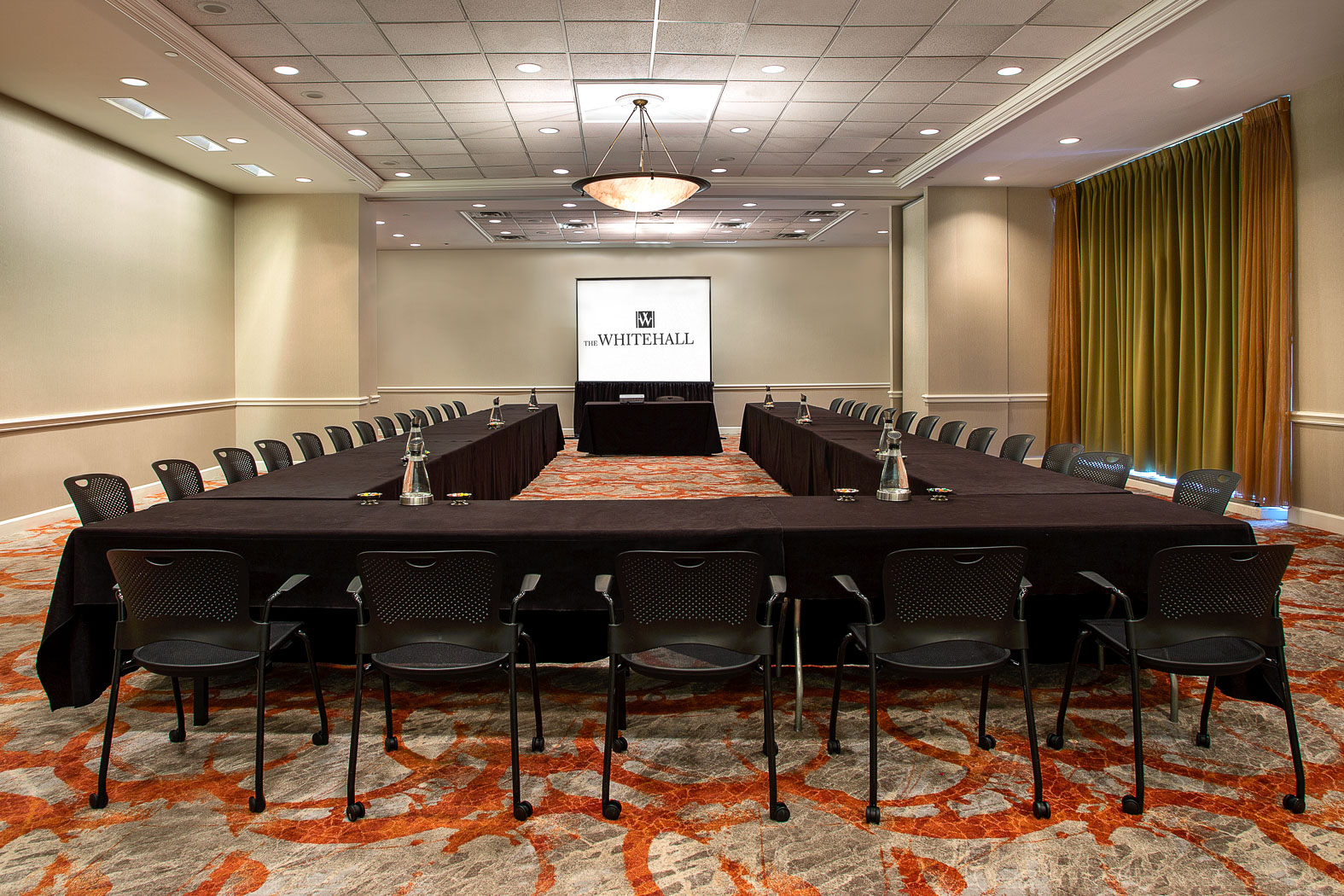 Bayou Ballroom
1,920 sq. ft. | Up to 200 guests
Ideal for social events and weddings, the Bayou Ballroom features abundant natural light through sweeping floor-to-ceiling windows overlooking the pool.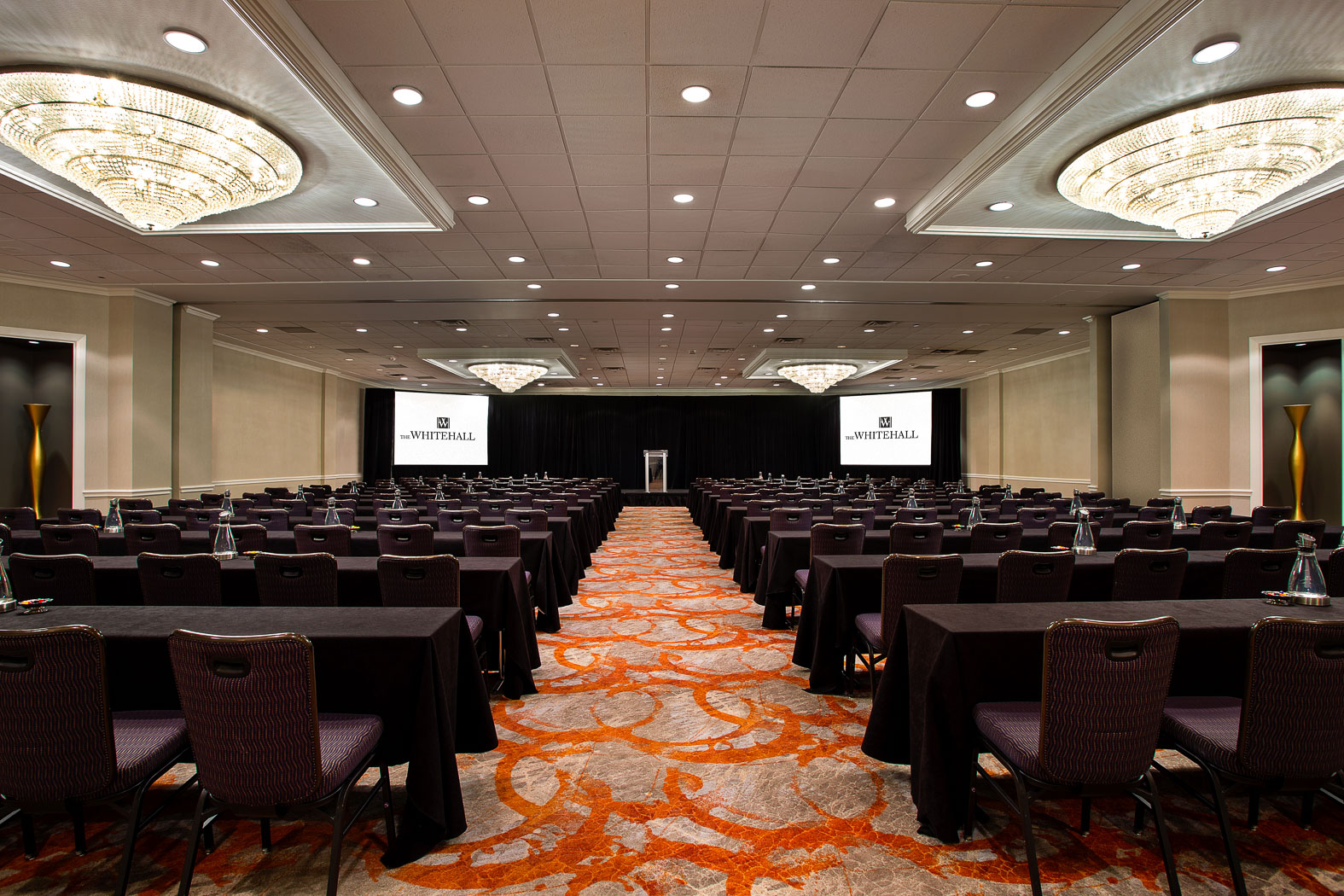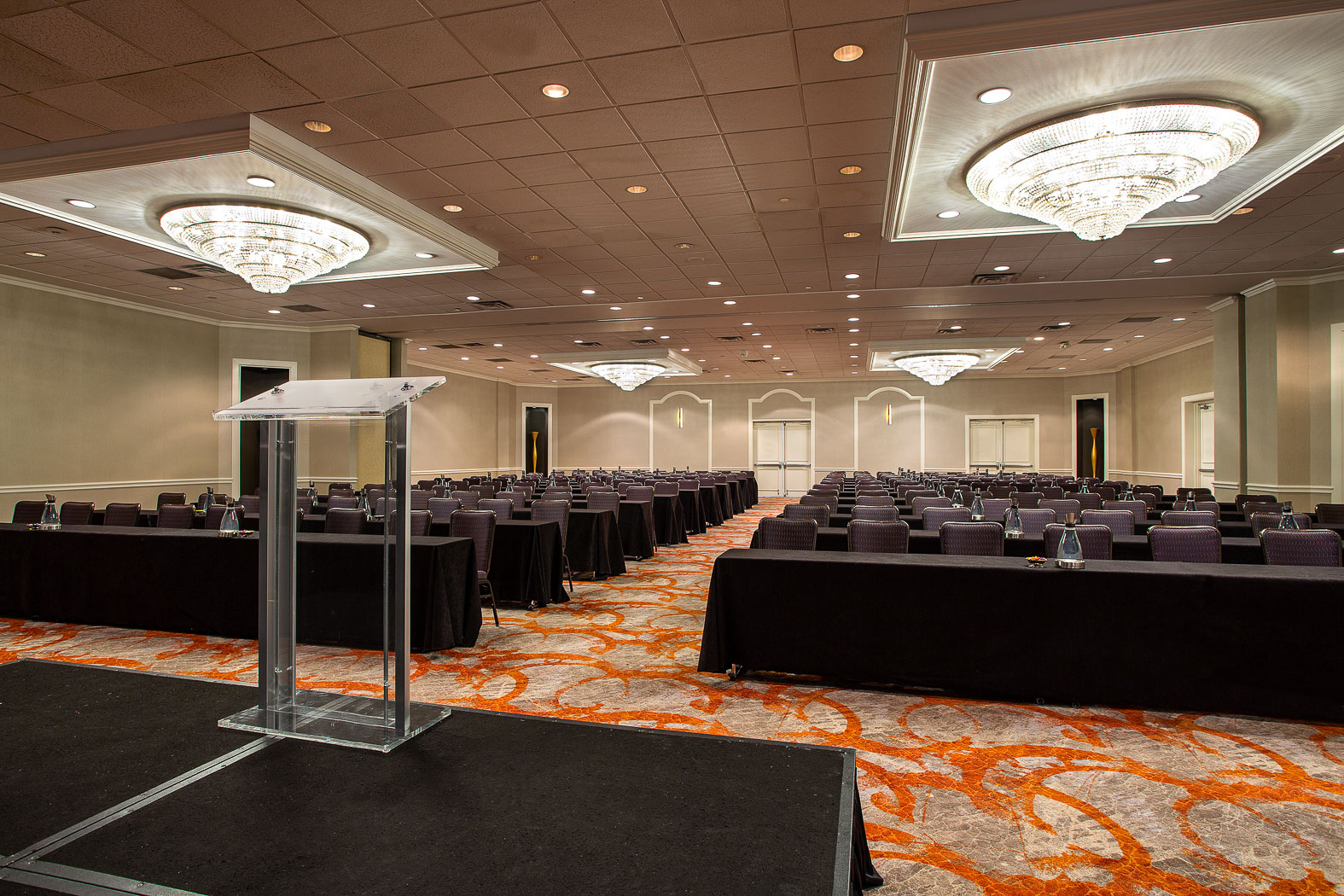 Bluebonnet Ballroom
4,324 sq. ft. | Up to 550 guests
Our largest space, the Bluebonnet Ballroom is the perfect venue for a corporate meeting, conference, social events or wedding reception. Its beautiful and classic design features include four chandeliers and alcoves in each corner showcasing sculptural décor.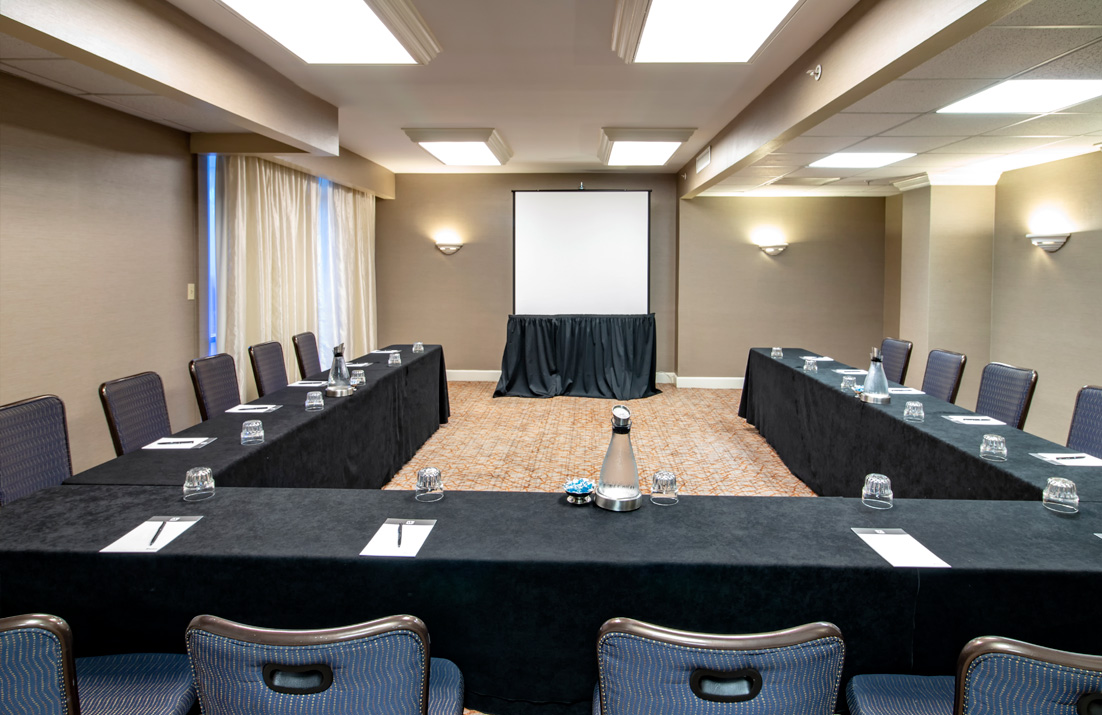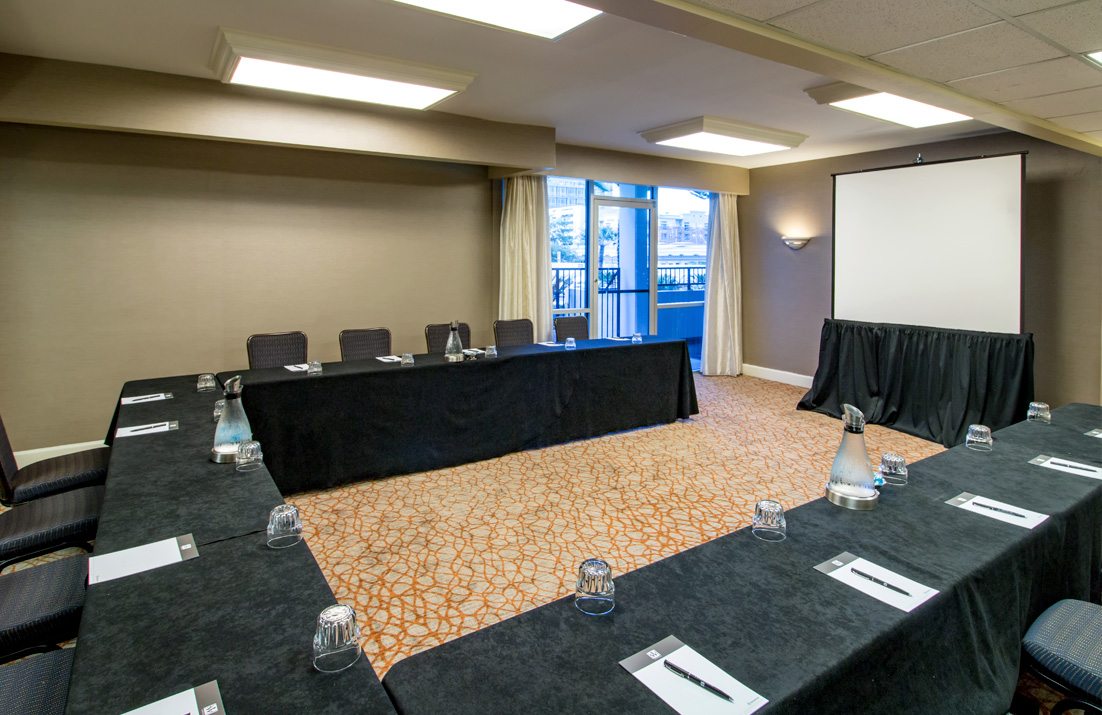 Cougar
615 sq. ft. | Up to 60 guests
Named after our University of Houston Cougars, this flexible space features a built-in "snack kitchen" to set-up F&B stations and maximize its available meeting space. Perfect for mid-size meetings and breakouts or as a Hospitality Room, the Cougar features a wall-mounted flat screen TV for presentations or video sharing.
Gulf Coast A & B
914 sq. ft. | Up to 80 guests
Located directly across from the Bayou Ballroom, the Gulf Coast A & B rooms feature original woodwork design features from The Whitehall. These spaces are perfect for a small meeting or breakout gathering for 20-30 people, and work equally well as storage and office space for larger meetings and conferences.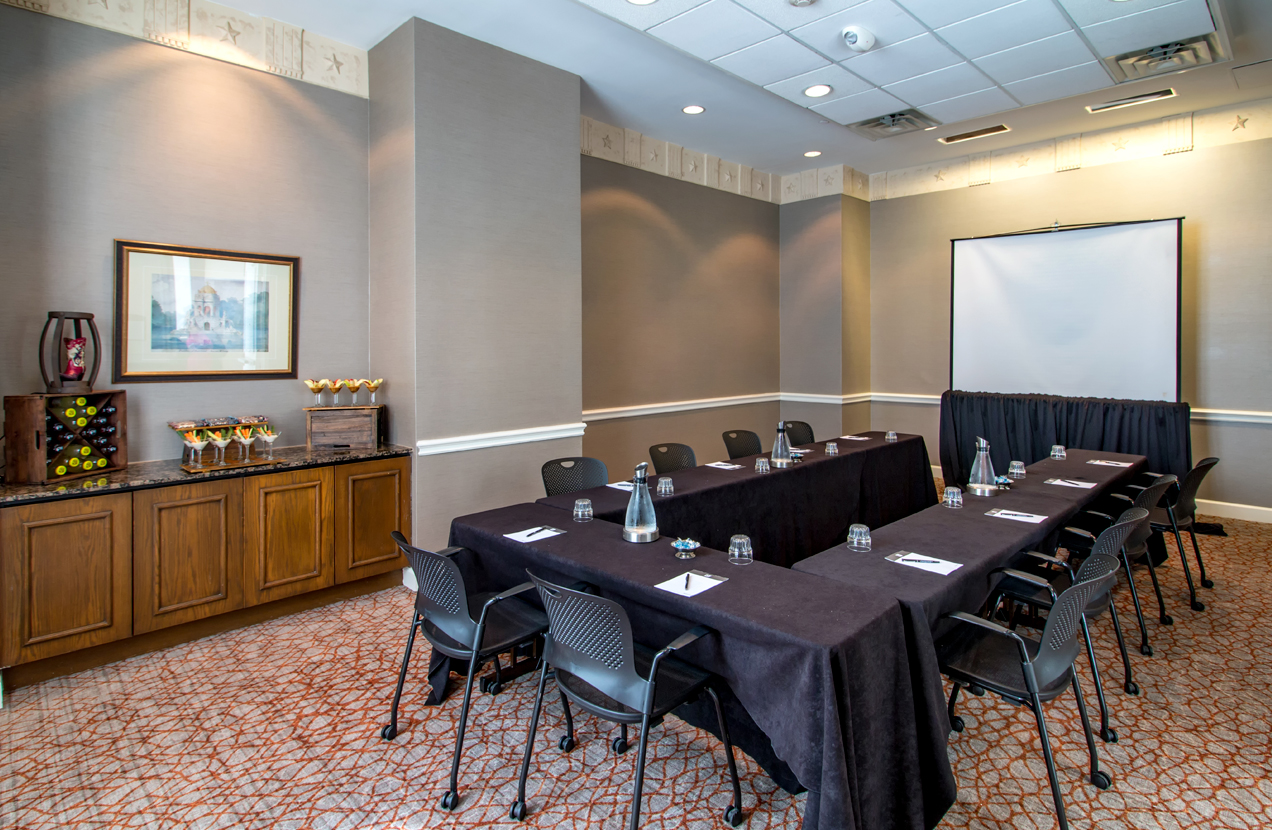 Houston A & B
964 sq. ft. | Up to 100 guests
Located at end of 2nd floor walkway featuring our famed white Italian marble floors and SCAD Art Gallery, these side-by-side rooms accommodate up to 50 guests each for a meeting or event. Houston A features a window overlooking Part & Parcel.
learn more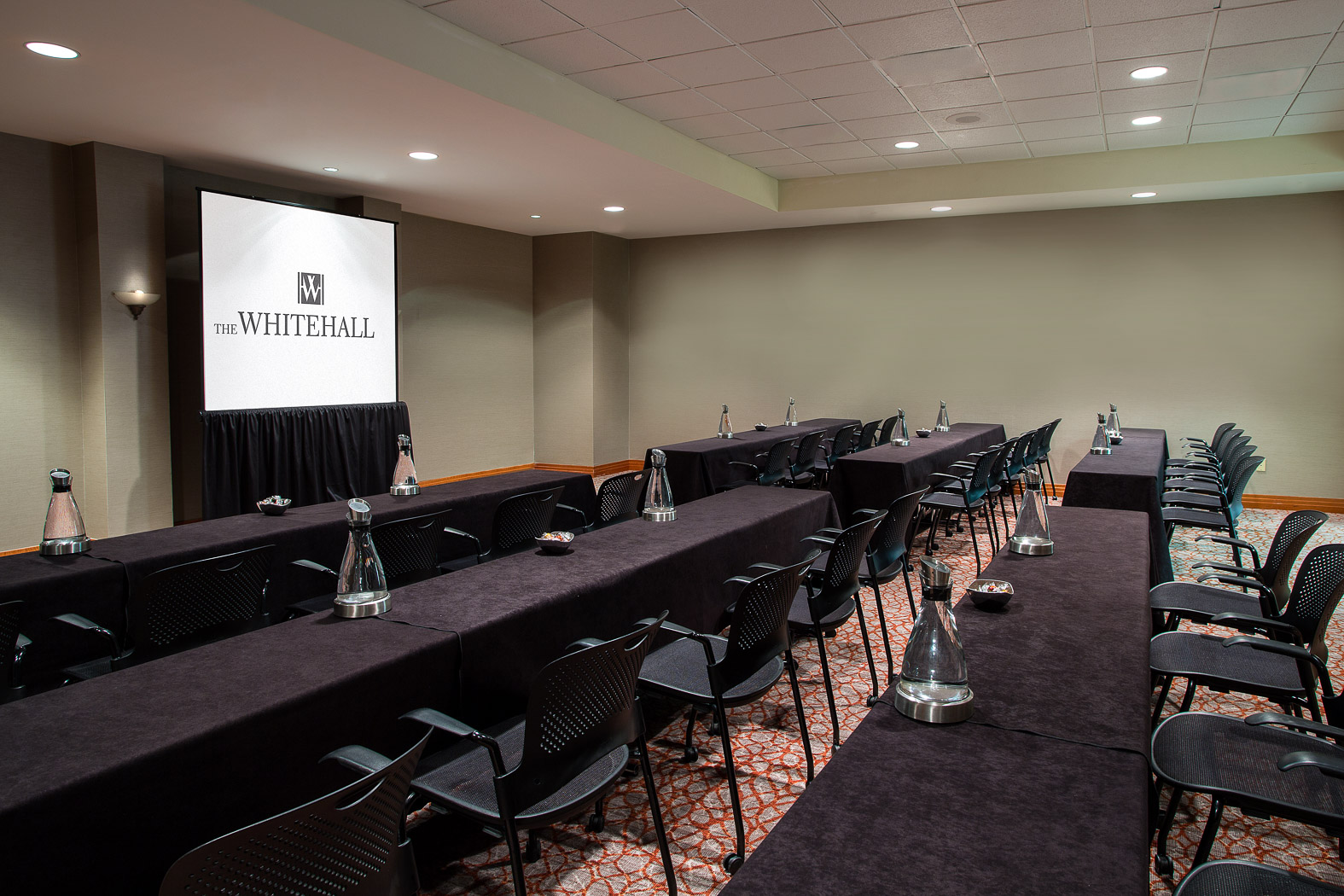 The Whitehall
905 sq. ft. | Up to 100 guests
The iconic Whitehall room is one of our most popular spaces, thanks to its custom artwork and French doors crafted of mango wood and glass. This flexible room can easily accommodate 50 to 100 guests. The Whitehall also features a bonus "room within a room" that is perfect for F&B set-up or storage space.
learn more