Wedding Venues
and Event Spaces in Houston
Imagine saying "I Do" to a romantic Southern wedding in one of Houston's most timeless settings. Consistently ranking among Houston's best wedding venues, we layer every celebration with our distinctive blend of sophistication, history, and local charm. From a large gala in the Bluebonnet Ballroom to an intimate dinner in one of our smaller event spaces, our certified wedding planner will ensure that every detail of your special day is flawless.
Interested couples may complete the request for information form below or contact our sales team by phone at (713) 739-8800 or by email at sales@thewhitehallhouston.com. 
We've Been Creating
Memories For Over 50 Years…
Your wedding will be an affair to remember when you choose The Whitehall. Houston's original landmark hotel for celebrations, The Whitehall has played host to some of the city's most glamorous events since its opening in 1963. Once you explore what sets us apart, including three distinct, stunning venues and world-class dining, you'll understand why generations of Houstonians have made The Whitehall the trusted backdrop for their most cherished celebrations. Our signature brand of southern charm, combined with mid-century modern architecture, amenities and stellar service, will delight your guests.
All It Takes
Is The First Step…
Experience our professional team, dedicated to making sure no detail goes overlooked, by making sure weddings, receptions, and rehearsal dinners are planned exactly the way you envisioned them to be.
Transform 12,000 square feet of event space, from elegant ballrooms to cityscape views from Part & Parcel, into something special with customized seating arrangements, decorations, music and other special enhancements.
As You Wish
Creating Lifetime Memories...
At The Whitehall, we ensure couples experience attentive, stress-free wedding planning by putting together a selection of comprehensive wedding packages. We will work out all the details of your big day, from catering menus, and room layouts, to the cake and flower arrangements.
An Affair
To Remember
From intimate rehearsal dinners to themed buffets and hors d'oeuvre cocktail receptions, creative catering services enhance any wedding event held at The Whitehall. Our team of acclaimed chefs and caterers craft customizable menus depending on your tastes.
Elegant buffets and plated dinners are planned with ease. Enhance your wedding or rehearsal dinner with specialty cocktails, world-class wines and liquors served up in our elegant ballrooms and intimate dining areas.
After an unforgettable wedding or commitment ceremony, send your guests off with something memorable. You and your loved ones will enjoy sitting down to a delicious farewell breakfast or brunch complete with all the morning classics. Enjoy good company and conversation with loved ones as you recount your wedding day highlights.
Look to our professional caterers and staff to create a menu tailored to your style, taste, dietary needs and cultural traditions.
Your Day, 
Your Way
Flexible wedding packages
Certified wedding planners
Romantic wedding venues
Preferred wedding vendor list
Wedding group room blocks
Customized wedding menu
Iconic
Venues
Imagine saying "I Do" to a romantic Southern wedding in one of Houston's most timeless settings. Consistently ranking among Houston's best wedding venues, we layer every celebration with our distinctive blend of sophistication, history, and local charm.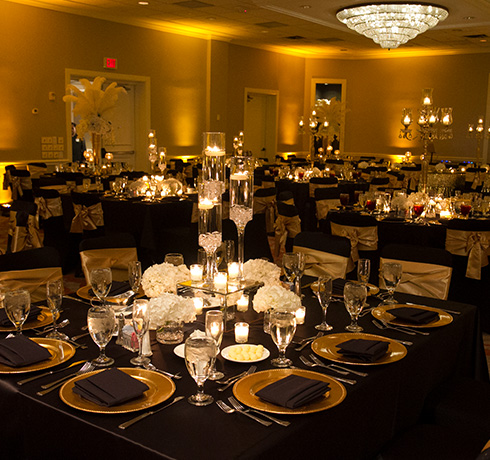 Bluebonnet Ballroom
SEATS UP TO 250 GUESTS/RECEPTION UP TO 300 GUESTS
Our largest ballroom featuring crystal chandeliers with alcoves in each corner showcasing sculptural décor, and a whisper-soft color palette create an atmosphere of timeless elegance.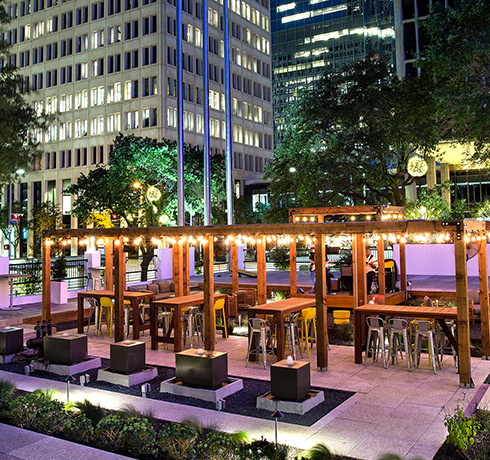 Part & Parcel
SEATS UP TO 120 GUESTS/RECEPTION UP TO 200 GUESTS
Looking for the perfect venue to celebrate with family and friends in a relaxed courtyard setting? We have the perfect downtown destination - Part & Parcel. Make memories under the Texas stars in a charming garden setting makes for a delightful, one-of-a-kind Houston wedding event venue.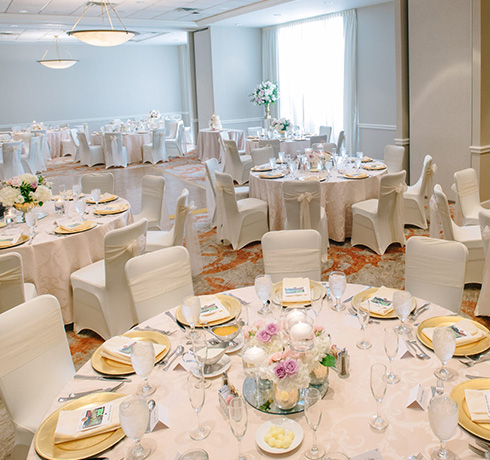 Bayou Ballroom
SEATS UP TO 90 GUESTS/RECEPTION UP TO 150 GUESTS
The Bayou Ballroom provides the perfect setting for a mid-century modern wedding. Floor to ceiling windows overlooking the rooftop Pool Deck provides the perfect setting for an intimate wedding. This gorgeous space provides natural lighting and is the perfect setting for smaller celebrations and ceremonies.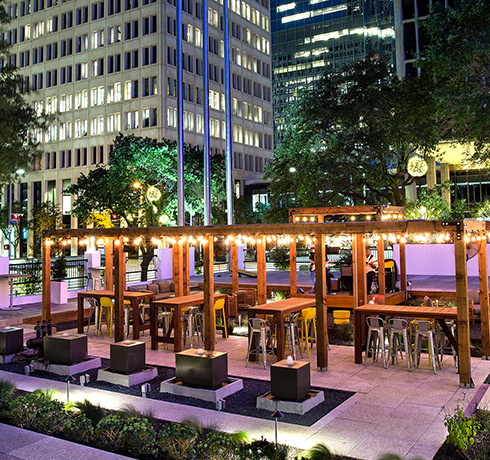 Part & Parcel
RECEPTION UP TO 200 GUESTS
Where does the party continue after "the party" is over? At the perfect neighborhood drinkery! Part & Parcel's expert mixologists specialize in both classic cocktails and original libations, which are complemented by a tempting small plate menu and a heaving helping of Southern hospitality. Sample delicately infused spirits, as well as Texas-inspired favorites like chicharrón and deviled eggs topped with fried oysters and candied bacon. The assortment of street tacos on offer are also a solid selection. Why should the party end!
Whitehall is yours 
To have and to hold
Save up to 15% when you plan your big day at The Whitehall!
Thursdays & Sundays | Enjoy 15% off your wedding pricing package
Friday's | Enjoy 10% off your wedding pricing package
Saturday's | Enjoy 10% your daytime wedding pricing package
(Event must end by 4:00 p.m.)
AND - get double iPrefer points!
An Affair to Remember
Small Weddings and Big Dreams
Our Whitehall Houston ceremony and micro weddings are perfect for those who are wanting to keep things close with family and friends. 
Serendipity Ceremony Package
$2,900.00 Per Event
Beautiful indoor ceremony locations
Rehearsal the Day Before (location depends on availability)
Bride & Bridesmaid Getting Ready Space & Holding Room
Groom & Groomsman Holding Room
White Garden Chairs Unity Table & DJ Table
Fruit Infused Water Station
Unity Table
Honeymoon Suite
Wedding Day-of Coordinator services to include:
Assist in referring vendors, confirming vendors' contracts & times
Rehearsal coordination
Ceremony & Reception timeline
Placement of wedding day items
Deliver wedding items to honeymoon suite
Sales Tax and 22% service fee are added to total invoice.
Request for proposal
Additional enhancement to the ceremony site with in-house audio to include:
(1) Wireless Microphone or Lavaliere Microphone, (2) Speakers, Mixer & Technician $600.00 (available at an additional cost)
Intimate Micro-Wedding Package
$2,100 Per Event
Beautiful indoor micro-wedding locations
Bride & Groom Holding Rooms before Ceremony
Honeymoon Suite
White Garden Chairs
On-Site Day-of Wedding Manager
Champagne Toast for Everyone
Custom Wedding Cake provided by Who Made the Cake
Unity Table
For Weddings of 30 persons or smaller
Sales Tax and 22% service fee are added to total invoice. $1,000 deposit to hold your date*
Bridal Photography Package
The Whitehall Houston, located in the heart of the Bayou City, offers the perfect mid-century modern backdrop for your Wedding Photo shoot – from the SCAD Art Gallery to under the arbors at Part & Parcel, the white marble, mahogany wood and lots of natural lighting makes The Whitehall Houston a beautiful place to take a bridal photo. A member of Preferred Hotels & Resorts and listed with the Historic Hotels of America, The Whitehall is an iconic Houston landmark. Our Wedding Photo Shoot Package includes luxurious overnight accommodations in our Governor Suite or a Deluxe Room with Garden Tub, bottle of sparkling wine upon arrival, and access to The Whitehall Houston for your photo shoot.
"Excellent venue for our wedding"
There are a few key things that really set them apart from other venues: Responsiveness... Value... Overall appearance... Professionalism and friendliness... and excellent food!
"I'd give 6 stars of I could"
Super flexible to accommodate anything you want! Can't say enough nice things. Got the package which included coctail hour, cake, cake cutting, champagne, and a VERY luxurious complimentary honeymoon presidential suite! Food was amazing.
"It was one of the best choices we made"
We had made a lot of our own decorations and signs and they made sure everything was just like we wanted. The ballroom was beautiful. We are so happy we had our wedding at the Whitehall.
First Floor
Hotel Capacity Chart
Meeting Rooms
Dimensions
Area
Max Ceiling
Height
Ceremony
Banquet
U-shape
Reception
Ambassador
16x35x10
494
10
70
40
20
35
Diplomat Boardroom
22x13x10
272
10
-
-
-
-
Executive
22x21x10
391
10
35
30
15
25
Social Distancing Capacity Chart
Meeting Rooms
Dimensions
Area
Max Ceiling
Height
Ceremony
Banquet
U-shape
Reception
Ambassador
16x35x10
494
10
20
13
7
35
Diplomat Boardroom
22x13x10
272
10
-
-
-
-
Executive
22x21x10
391
10
12
10
5
25
Second Floor
Hotel Capacity Chart
| | | | | | | | |
| --- | --- | --- | --- | --- | --- | --- | --- |
| Meeting Rooms | Dimensions | Area | Max ceiling height | Ceremony | Banquet | U shape | Reception |
| Bayou Ballroom | 34x54x12 | 1920 | 11.5 | 200 | 130 | 55 | 180 |
| Bayou A | 33x17x12 | 556 | 11.5 | 60 | 40 | 20 | 60 |
| Bayou A & B | 34x44x12 | 1404 | 11.5 | 140 | 110 | 40 | 130 |
| Bayou B | 34x27x12 | 873 | 11.5 | 100 | 70 | 30 | 90 |
| Bayou B & C | 34x42x12 | 1373 | 11.5 | 130 | 100 | 35 | 120 |
| Bayou C | 34x15x12 | 510 | 11.5 | 50 | 30 | 20 | 40 |
| Bluebonnet Ballroom | 58x77x12 | 4324 | 12 | 550 | 350 | 80 | 500 |
| Bluebonnet A | 58x35x12 | 1983 | 12 | 200 | 200 | 50 | 200 |
| Bluebonnet B | 58x42x12 | 2363 | 12 | 300 | 225 | 55 | 250 |
| Cougar | 20x37x10 | 615 | 10 | 60 | 50 | 25 | 50 |
| Gulf Coast A | 20x24x11 | 440 | 10.8 | 40 | 30 | 15 | 35 |
| Gulf Coast B | 20x28x11 | 474 | 10.9 | 40 | 30 | 15 | 35 |
| Houston A | 17x27x11 | 424 | 11 | 50 | 30 | 15 | 40 |
| Houston B | 17x34x11 | 424 | 11 | 50 | 30 | 20 | 40 |
| Whitehall | 35x29x15 | 905 | 15 | 10 | 80 | 30 | 100 |
Social Distancing Capacity Chart
| | | | | | | | |
| --- | --- | --- | --- | --- | --- | --- | --- |
| Meeting Rooms | Dimensions | Area | Max ceiling height | Ceremony | Banquet | U shape | Reception |
| Bayou Ballroom | 34x54x12 | 1920 | 11.5 | 67 | 60 | 18 | 90 |
| Bayou A | 33x17x12 | 556 | 11.5 | 20 | 13 | 8 | 30 |
| Bayou A & B | 34x44x12 | 1404 | 11.5 | 47 | 37 | 13 | 65 |
| Bayou B | 34x27x12 | 873 | 11.5 | 33 | 23 | 10 | 45 |
| Bayou B & C | 34x42x12 | 1373 | 11.5 | 43 | 33 | 13 | 60 |
| Bayou C | 34x15x12 | 510 | 11.5 | 17 | 10 | 8 | 20 |
| Bluebonnet Ballroom | 58x77x12 | 4324 | 12 | 183 | 138 | 33 | 250 |
| Bluebonnet A | 58x35x12 | 1983 | 12 | 67 | 48 | 16 | 100 |
| Bluebonnet B | 58x42x12 | 2363 | 12 | 100 | 72 | 18 | 130 |
| Cougar | 20x37x10 | 615 | 10 | 20 | 18 | 10 | 25 |
| Gulf Coast A | 20x24x11 | 440 | 10.8 | 13 | 12 | 5 | 18 |
| Gulf Coast B | 20x28x11 | 474 | 10.9 | 13 | 12 | 5 | 18 |
| Houston A | 17x27x11 | 424 | 11 | 17 | 18 | 5 | 20 |
| Houston B | 17x34x11 | 424 | 11 | 17 | 18 | 7 | 20 |
| Whitehall | 35x29x15 | 905 | 15 | 33 | 30 | 10 | 50 |